CYCLES
CYCLES
Exhibition Duration: Nov 8, 2023 - Dec 24, 2023
Address: TANK Shanghai Project Space, 2380 Longteng Ave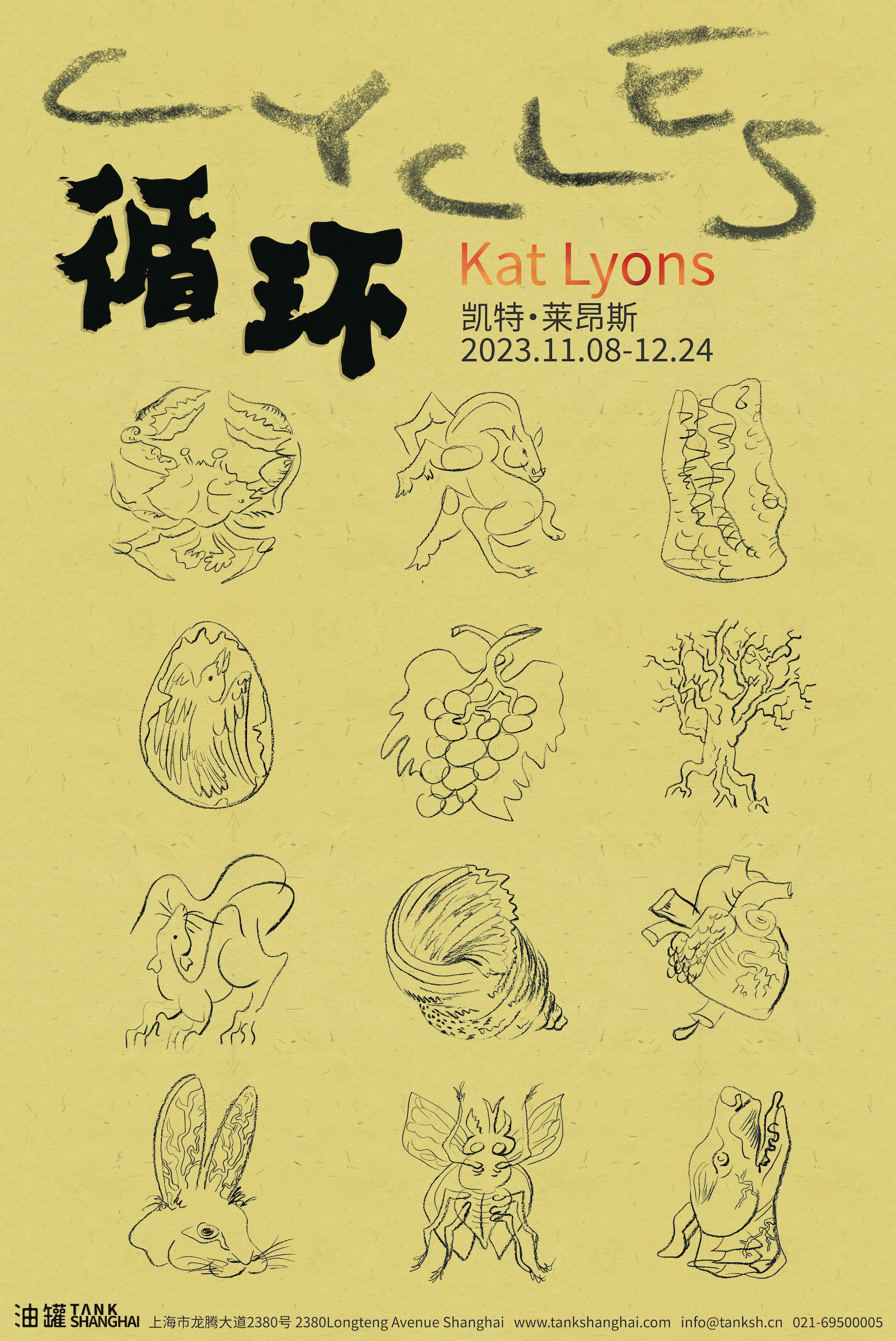 TANK Shanghai is pleased to present "CYCLES", Kat Lyons's first solo exhibition in China, as an expression of support and appreciation for this talented young artist. The exhibition opens on November 8, 2023 and runs through December 24th.
Kat Lyons: CYCLES celebrates the forces that unite all biological beings. In this presentation of new works, Lyons moves us from dawn to dusk to navigate the ever-unfolding entanglements of kinship, evolution and time. Across six canvases, the viewer passes through several phases of vitality and death, exploring relations within the greater forces that be. Lyons creates a series of vivid tableaux where connections regarding the collective arise; life on earth is presented as a collaborative endeavour defined by both symbiotic and antagonist relations.
The philosophical questions regarding the morality or indifference of the natural world have concerned human cultures since the dawn of our origin, resulting in allocation and category as an attempt to understand. As the complexity of life continues to reveal itself, such classifications necessitate continual revision and reconstruction. In their celebration of the ungovernability of life, Lyons's paintings challenge human reliance on the demarcation of environments and territory to relate to place and time. Lyons here, considers the curiosities of change; the short visits of migratory species, those who arrived decades prior, and the ancient remains of those below us, who once thrived in vastly different conditions. When might a species go from 'introduced' to 'native'? From 'invasive' to 'habituated'? What particle and elemental exchanges pass between us that challenge understandings of 'origin'? What remnants are altered by new beginnings and how might these beginnings tell us about the past? By inviting these questions, we are reminded that there are no relational boundaries between beings, and that earth is a great, unifying stage.
Working against hierarchical structures, Lyons's works invites the viewer to think of all life on earth as a constellation of continuous change. While compiling the chosen twelve subjects of CYCLES, the artist relied upon little reference material, instead drawing upon her own internal archive of memories, representations and associations to conjure, in paint, both familiar and unexpected approximations of animals and vegetation. Lyons explores the symbolic depiction of animals throughout art history, which she juxtaposes with her personal experience.
Strange amalgamations and intersections between species begin to arise, highlighting forms that unify life's great diversity. What do these subjects share? Finding more affinities than estrangements, Lyons points towards the genetic coding that defines our phenotypes, which are constructed of the same elemental and material forces, revealing, in turn, beautiful similarities between a rat's ear and a seashell, a deer's self-protective posturing and the crab's clawed defences, the vascular transparency of a jackrabbit's ear with the delicate patterning of a large beetle's wing. The vitality of other life forms adjacent to our own – driven by a curiosity, shared corporeality, our secret interior lives, vital synchronicities, and generational lineages that define what it means to be alive.