Ed Atkins: Refuse
TANK Shanghai is pleased to present "Refuse" by British artist Ed Atkins from 8 July 2022 through 8 January 2023. This is the artist's first solo exhibition in China.
The title of the exhibition in English, Refuse, is a homograph: a word that remains unresolved in text. It signifies at least both a verb (to be unwilling) and a noun (trash), with whatever intended meaning reconciled in speech only. This irreconcilability, between oblique meaning and unmeaning outside of imminent experience, is common to all of the works in the exhibition.
For this exhibition, Ed Atkins presents a bold new iteration of his seminal real-time 3D simulation Refuse.exe, installed twice, projected onto a suite of huge plywood structures, alongside a series of new, large-scale embroideries produced in China. The exhibition is the culmination of several years of conversation and planning between the artist and TANK Shanghai, and represents a singular expression of the artist's oeuvre.
Spanning the two floors of TANK No.4, Refuse.exe is a two-channel real-time 3D simulation, authored in a custom version of the Unreal Engine: a software development environment used to make video games. As the software runs, miscellaneous trash falls to a stage and piles up, forming a great mound of waste. The fall, the collisions and the accumulated heap are randomised by the live, simulated physics, so that every performance — every run-through of the programme — is unique. Atkins conceives Refuse.exe as "a play about unwanted things returning", performed by a sprawling catalogue of Computer Generated objects and phenomena, whose only direction is down, and whose only motivation is gravity. Atkins has said that one of the central motifs of the exhibition is the list.
At TANK Shanghai, Atkins has contrived to install Refuse.exe twice, projected onto the faces of four huge empty plywood constructions. — the better to reveal the repetitious difference of the software's performances, and to emphasise and allegorise the hollow three-dimensionality of Refuse.exe. The distinctions between the piles of trash reveal a failure in the process of representing lived experience through technology. The software's version of accident paradoxically belies its design. Similarly, by doubling the installation, Atkins discloses what is reproducible and what is not — and how little an algorithm might be able to identify what we humans find most meaningful.
Serving as the projection screens for Refuse.exe, the huge plywood constructions that squat on each floor of the exhibition cleave to the image's native aspect ratio, though their undeniable materiality — the patina of unfinished plywood, the great empty void inside of each of them — disrupts the image's plausibility, bluntly realising the Computer Generated Imagery and the physics simulation taking place in the projection. As the projected image ends at the surface of the screen, the plywood constructions append an overt third dimension to the image, and when the viewer moves around the back of the structure, they will discover that, as in 3D rendering, they are empty, save for the viewer's body, their desires.
The embroideries that surround the spaces were produced locally in Shanghai. The smaller embroideries are the result of a convoluted processing of drawings made by Atkins. Drawn in black ink on illustrator board, they are scanned and vectorised, then broken into single gestures and reconstituted into noisy abstraction. In the context of the exhibition, Atkins thinks of these embroideries as texts or accompanying illustrations; their relationship to the other works is informative. The two larger embroideries on display are based on Atkins' father's diary and tenth-century Japanese author Sei Shōnagon's brief list of "squalid things", respectively. In both cases, the original literature has been altered algorithmically, and more or less brutally, then translated into Chinese. Atkins'fathers diary has been alphabetised to incoherence, and Sei Shōnagon's list has been extended into appalling absurdity by GPT-3, an autoregressive language model that uses deep learning to produce human-like text. "Human-like", perhaps most pointedly, in its failure to convince.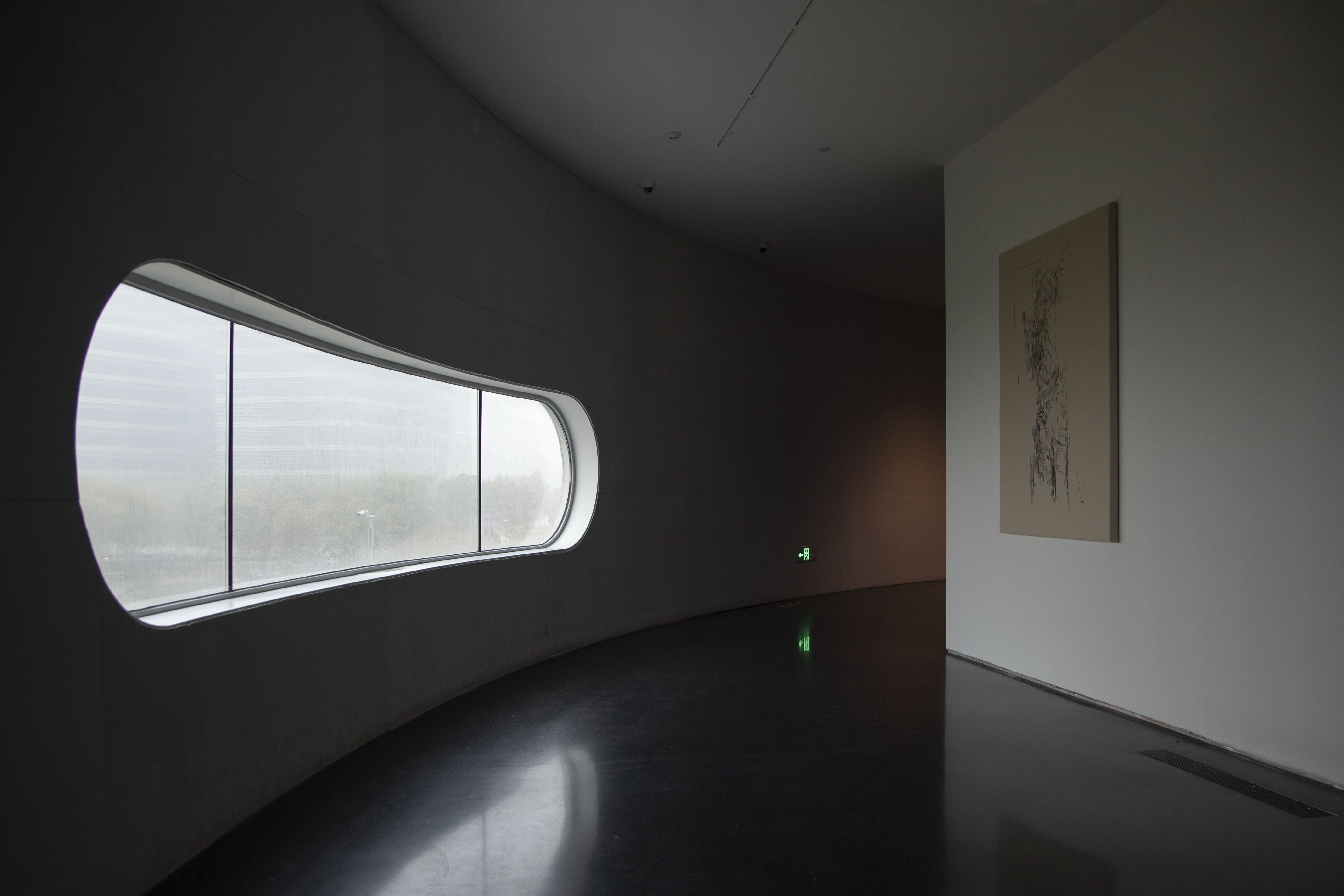 One of Atkins' chief assertions is that life is forever beyond the capabilities of any computer simulation to sufficiently reproduce — and not just technically, but phenomenologically, sentimentally, and finally, mortally. Atkins thinks of this exhibition as a downer, figuratively speaking.
Atkins, who visited TANK Shanghai in 2019, was inspired by its architecture, and was motivated to show works that speak to the space and reanimate it with sound and visuals. According to Atkins, as a post-industrial project, the exhibition "Refuse" acts as a kind of haunting of the tank through its relationship to scrap, uselessness, and excess production.
[Ed Atkins' Biography]
Ed Atkins (Oxford, UK, 1982) lives and works in Copenhagen.
Recent solo exhibitions include the New Museum, New York (2021); Kunsthaus Bregenz and K21 Düsseldorf (both 2019); Martin-Gropius-Bau, Berlin; MMK Frankfurt; DHC/ART, Montréal (all 2017); Castello di Rivoli and Fondazione Sandretto Re Rebaudengo, Turin; The Kitchen, New York; SMK, Copenhagen (all 2016); Stedelijk Museum, Amsterdam (2015), The Serpentine Gallery, London (2014); Julia Stoschek Collection, Düsseldorf (2013); and MoMA PS1 (2012). Atkins was included in the 56th and 58th Venice Biennales, the 13th Lyon Biennial, and Performa 13 and 19. Forthcoming solo projects include Tate Britain.
Atkins is the author of A Primer for Cadavers (2016) and Old Food (2019), both published by Fitzcarraldo Editions. He is the subject of several monographs, including a catalogue raisonné from Skira in 2017. A new book of Atkins' drawings for children was published by König Books last July.