Theaster Gates : Bad Neon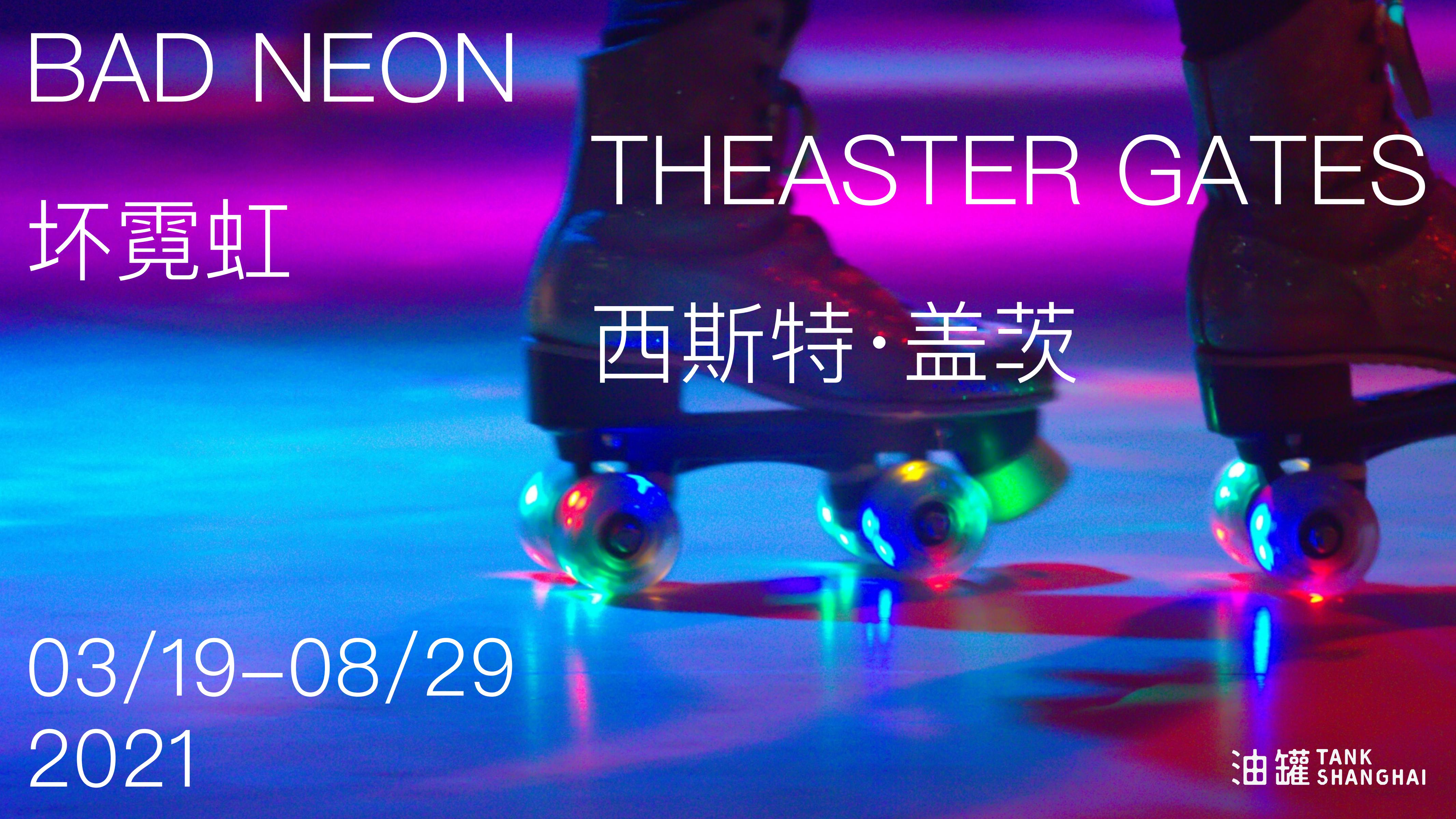 TANK Shanghai is pleased to present "Bad Neon" by artist Theaster Gates from March 19 to August 29, 2021 in TANK No. 3. Transforming the unique structure of TANK Shanghai into a roller-skating rink, Gates recreates a 1980s disco atmosphere and invites visitors to navigate the charm of contemporary art through movement, sound, and a new series of neon works inspired by abstract painter Agnes Martin and social theorist W.E.B Du Bois.
When TANK Shanghai was still under construction four years ago, Gates visited the site and drew inspiration for this exhibition, which took three years from its inception to landing. Gates was struck by the circular architecture of TANK No. 3, which reminded him of the roller-skating rinks that he frequented when he was growing up in Chicago.
"Bad Neon" looks at the work of Agnes Martin and W.E.B Du Bois as a strategy for translation practices. Martin's ability to codify the world, rendering it as a series of geometric, highly structured line paradigms, were ideal for additional translation. As the artist states, "Through this body of work, I wanted to render Agnes Martin's secular meditations into a new pop form of electric intensity, while returning to the language of abstraction as a way of grounding other light strategies within the exhibition."
In the "Du Bois Neon" series, which includes Slaves, Ex Slaves and Progress Mill, Gates references the statistical data charts that were compiled by W.E.B Du Bois, an American sociologist, historian and civil rights activist. Du Bois's visualizations substantiated the presence of the Black experience in America at the turn of the 20th century.
Houseberg (Gold) and Houseberg (Silver), two rotating disco ball sculptures that mimic iceberg formations, are staged in the center of the rink. The Housebergs activate TANK No. 3 with light and reflective qualities while paying homage to 1980s Chicago House music. During the exhibition, musicians and artists will be invited to respond to the exhibition through crafting different genres of music, bringing more possibilities to the site.
In addition, television screens displaying a collection of found footage are installed around the exhibition venue. Through music, roller skating, neon and video, Gates and TANK Shanghai assume the identity of the hosts, creating a new social networking site for the museum-goers and offering them not only a fresh perspective to experience art, but also a unique social and interactive experience in the midst of the pandemic.
Converted from decommissioned aviation fuel tanks of Longhua Airport, the earliest airport in China, TANK Shanghai has become a museum incorporating multiple functions such as exhibitions, public activities and entertainment. Since its opening, TANK Shanghai has been committed to creating a new site for the public to think of the relationship between art, city and history. The idea of reusing the abandoned spaces embedded in Theaster Gates's works also coincides with the past and present of TANK Shanghai.
*** Duration: March 19 – August 29, 2021
*** Venue: TANK No. 3, TANK Shanghai, 2380 Longteng Avenue
About Theaster Gates:
Theaster Gates lives and works in Chicago. Gates creates work that focuses on space theory and land development, sculpture and performance. Drawing on his interest and training in urban planning and preservation, Gates redeems spaces that have been left behind. Known for his recirculation of art-world capital, Gates creates work that focuses on the possibility of the "life within things." Gates smartly upturns art values, land values, and human values. In all aspects of his work, he contends with the notion of Black space as a formal exercise—one defined by collective desire, artistic agency, and the tactics of a pragmatist.
Theaster Gates is the recipient of Artes Mundi 6 and 2017 Légion d'Honneur. He also received Nasher Prize for Sculpture in 2018 and J.C. Nichols Prize for Visionairies presented by Urban Land Institute. In 2020, he received the 2020 Crystal Award for his leadership in creating sustainable communities.
Gates is a professor at the University of Chicago in the Department of Visual Arts and the Harris School of Public Policy, and is Distinguished Visiting Artist and Director of Artist Initiatives at the Lunder Institute for American Art at Colby College.
Selected Exhibitions and Performances:
2020 - Tate Liverpool, UK; Haus der Kunst, Munich, Germany
2019 - Walker Art Center, Minneapolis, MN, US; Palais de Tokyo, Paris, France
2018 - Sprengel Museum, Hanover, Germany; Kunstmuseum Basel, Switzerland
2017 - National Gallery of Art, Washington D.C, US
2016 - Art Gallery of Ontario, Canada; Fondazione Prada, Milan, Italy
2013 - Whitechapel Gallery, London, UK; Punta della Dogana, Venice, Italy
2012 - Documenta, Kassel, Germany
About TANK Shanghai:
TANK Shanghai is a nonprofit institution and a pioneering and multifunctional art center. Through contemporary art exhibitions and events, the public is invited to closely experience art, architecture, the city, nature and the exceptional Huangpu river view.